The Many Colors of Copper Sinks Direct
Posted by Copper Sinks Direct on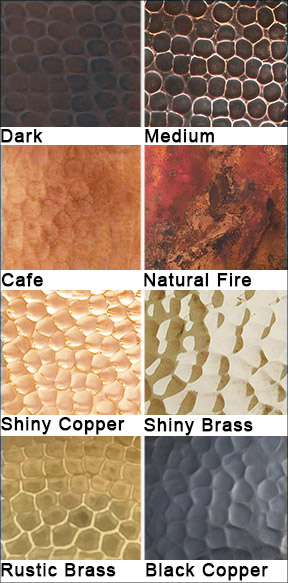 At Copper Sinks Direct we offer a wide ranges of copper colors to choose from. All of our copper living finishes (patinas) are not lacquered or sealed to preserve the antimicrobial qualities of the natural copper. The Following are the colors currently available:
"Dark" Copper, also known as (ORB) Oil Rubbed Bronze, Antique Copper and Dark Smoke, this is a rich array of dark chocolate tones that work well in most kitchen and bathroom designs. Hammered or Smooth Copper, this is the most popular color choice for sinks, tile and accessories.
"Medium" Copper is a contrasting Duo-Tone of the Dark patina and the Shiny Copper colors. The indentations from the hammer marks are dark while the higher parts of the hammered are burnished to a shiny copper color. This Copper Sinks Direct color works well where contrast is needed to break up solid colors.
"Cafe" Copper is a tarnished copper color that naturally resembles an oxidized penny. The Cafe Patina is a warm copper color that is most popular in bar and bathroom sinks as well as spa pedicure bowls.
"Natural Fire" Copper is full of color and movement where no two sinks are alike. This color includes light and dark browns, blacks, oranges and reds. The copper sinks are heated over an open fire to achieve this unique 1 of a kind color scheme. This copper color is very popular in the copper bar/prep sinks and is becoming more popular in the kitchen sinks and farmhouse apron front sinks.
"Shiny" Copper is exactly that a high polished copper that is also a living finish. This can be maintained with copper polish and protected from tarnishing with a paste wax. It can also be left to tarnish and age naturally.
"Shiny" Brass is the same, a highly polished unsealed brass that will also tarnish and age naturally if not maintained.
"Rustic Brass" also know as Weathered and Antique Brass is pre-aged and naturally tarnished. Most popular in bar remodels.
Finally, our New "Black Copper" a requested color for Range hoods and copper tiles. Copper is treated to turn a flat black.